Split Air Conditioning
Energy efficient heating and cooling for your home
Best for
Heating & cooling one area of your home
Compact size
Daikin Split systems are ideal for air conditioning one room or area of a home. Discreet wall-mounted and compact floor standing units are all part of the Daikin range.
Daikin Split Systems come in either 'Cooling Only' or 'Reverse Cycle' (Heating and Cooling) or for ultimate comfort our Ururu Sarara system regulates temperature, ventilation as well as humidity levels allowing you to obtain ideal conditions all year round.
Would like to buy Daikin?
We are part of Daikin's Specialist Dealer Network.
A Sensitive, Smart Choice
| | |
| --- | --- |
| | Approved by the National Asthma Council Australia and the Asthma Foundation (NZ), Daikin air purifiers and split systems are authorised to display the Sensitive Choice butterfly symbol. |
Explore the range
Wall Mounted
Benefits:
Daikin wall mounted air conditioners are a natural choice for those wanting the comfort of a unit that blends unobtrusively with its surroundings. The same technology that makes the Daikin indoor unit so compact also makes it powerful, yet quiet and energy efficient.
The pleasing design of the units also has functional appeal. The smooth surface of the flat panel models can be wiped clean and the flat panel easily removed for more thorough cleaning. 

Daikin's air purifying filters and innovative air flow systems ensure that fresh, conditioned air flows to every corner of the room.
Daikin's new L-Series split system air conditioners boast high efficiencies and are the most energy efficient split systems ever made by Daikin.
Available in:
Reverse Cycle (Heating & Cooling)
Cooling Only
[fancytabs]


[/fancytabs]
Ururu Sarara 7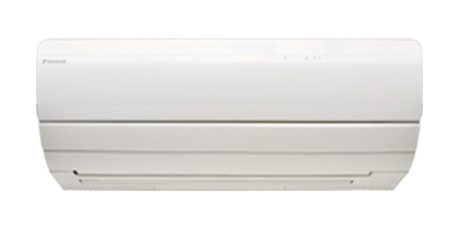 Benefits:
To enjoy a comfortable indoor climate, you need more than just a pleasant temperature. Precise adjustment of both the humidity level and ventilation in a room is also important, but until now this has not been available in conventional air conditioners.
The Daikin Urura Sarara 7 split air conditioning system however, can not only heat or cool one room of a home but is also capable of humidifying, dehumidifying, ventilating, and purifying the indoor air. Built with energy efficient technology, it's the perfect solution for ideal living conditions all year round.
The Daikin Ururu Sarara 7 is the most energy efficient split system air conditioner in Australia* with a 7-star 'super efficiency' rating using all new R32 refrigerant.
* 2.5kw model, as at 15/11/13 – visit www.energyrating.gov.au for details
Available in:
Reverse Cycle (Heating & Cooling)
[fancytabs]


[/fancytabs]

Floor Standing
Benefits:
Daikin's floor standing air conditioning units are compact and ideal for anyone wanting the convenience and access of positioning their unit closer to the floor.  They can even be semi-recessed into the wall or in an unused fireplace. The units use either top, or top and bottom discharge vents to distribute air evenly throughout the room.
Available in:
Reverse Cycle (Heating & Cooling)
[fancytabs]


[/fancytabs]